View Calendar
01/06/2023 10:30 AM - 12:30 PM
Let's have a fun AAC day out at Kirks Alpaca Farm.
$10 admission per guest, caregiver is free.
WE INTEND ON BEING AT THE FARM FOR 10:30. SEE YOU ALL THERE.
PLEASE PRE-REGISTER WITH EVENTBRITE (REGISTER HERE).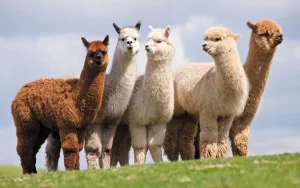 Some information from Kirks Alpaca Farm Website:
https://kirksalpacafarm.ca/
Did you know that you can come and feed the alpacas? That's right, you can enjoy them while walking around in our pasture. 🦙  You can take in the breathtaking views and simply enjoy the peace and quiet away from the city!
When you come and visit the farm, please feel free to bring a picnic!
You can also check out our farm store full of local and alpaca products! (Ice cream and other treats are available)